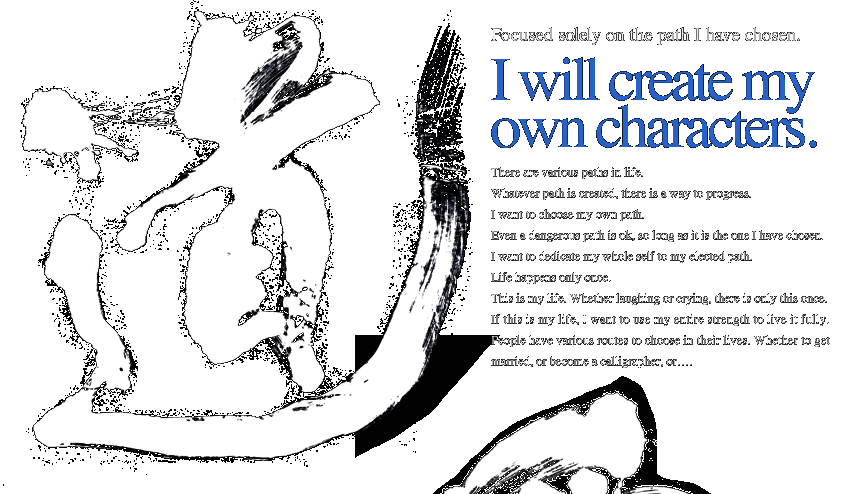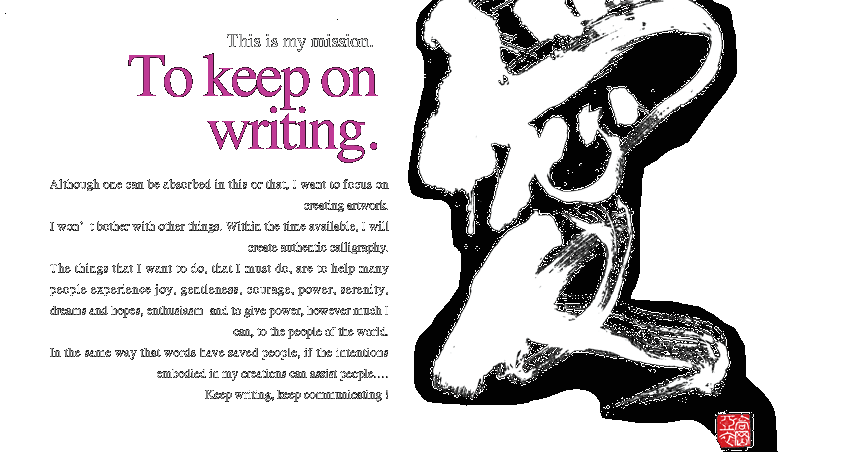 Joy, anger, sadness, pleasure can all be expressed to the same extent
There are many different forks in the path of human life. It was at the point when I decided whether to get married or become a calligrapher that I created the work « michi 道 » or path. I wrote it with my full spirit while tears ran down my face.
As a calligrapher it is possible to express joy, anger, sadness, pleasure in my works. Everything can become an artwork. Pain, suffering, and similar emotions are not felt as failure but can be evaluated as « good ». Aren't moments of these feelings necessary in life ? They don't force us to feel like a failure, as a calligrapher expressing these things openly can be seen as truely good.
When one is happy, it is easy to think « I want to write », feeling stronger than ever the desire to convey love through calligraphy. However, I feel that in those times of extreme sorrow or suffering that it is a real chance to write with the feeling of life. It is only during this time of suffering that such emotions can be expressed as real. Human energy is truly intense.
There are various paths in life. Which path should we construct and follow? We want to decide our path by ourselves. For instance, even if it's a dangerous path, it is the one we have chosen. We want to go forcefully ahead on our chosen path. If we don't learn our limits, we can't move ahead. Although it can be like putting ourselves through a painful test, its's actually enjoyable.
When I am inspired to write, it's a way of life, it's a call from the soul.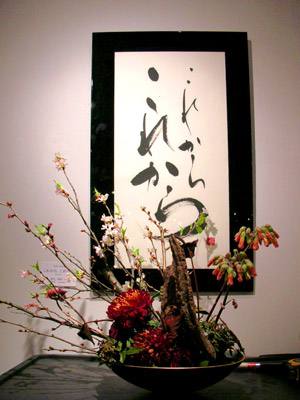 On explaining the methods for expressing oneself.
Doesn't every method have a means to express oneself? For me, the path of calligraphy is my way to express joy, anger, sadness, and pleasure, yet in the world there are also many other people who express themselves.
Yet among them, aren't there those who don't know the methods of expression, whose hearts ache while they live in the midst of their suffering ?
I think that if one's viewpoint or way of thinking could change even a little, there could be a chance of encounter, a possibility of uncovering a method of expression. So why not try to engage one's hobbies and the things that one likes? Leaving stress behind, change to express good feelings and release one's spirit.
Through my activities as a calligrapher, I want to convey the form of self expression found in Japanese calligraphy. I want my works to remain as revelations written from within my personal realizations.
What I should express, what I want to express, is for many people to joyfully receive gentleness, courage, power, tranquility, dreams and hopes, passion. With the thought that this might help generate strength for the people of the world. If only I were able to help people through imbuing my works with these thoughts…
Keep writing, keep communicating.