Ai Takaoka. Born in Kyoto prefecture.
Speaking as a female Kyoto calligrapher born from the « place of power », she explains the path (way or michi) of traditional Japanese calligraphy as an elegant and powerful performance of « living brushwork ».
Through the originality of her calligraphic technique, creativity, and ability to understand the feelings of others, Ai Takaoka offers energy and hope to enrich the spirit of people. For more than 30 years, she has built up her skill through continual practice giving her «technical strength » ; bringing together tradition and innovation while expressing the full range of human emotions has developed her « creative power » ; and through overcoming several illnesses she has developed a fighting spirit that helped her realize the « power to empathize with others ». In coming into contact with Ai Takaoka, many people have been moved to tears.
Following this lifestyle style, she received in 2008 the 「LUX Shine Awards」a cultural prize for « sparkling » female artists that recognized her image as a strong and beautiful woman. In 2012, she was invited to Paris, France, where she gave a performance at her solo exhibition; thus beginning to atract foreign attertion to the expression of Japanese beauty and spirit in her work as a calligrapher.
Born in the northern part of Kyoto prefecture in the Tango region, she was named the « tourist ambassador ». for Tango. As an expression of her love for her home district, she has made Kyoto the base of her activities. At the same time, she has opened her school « Shoraku room » where she is not only teaching and transmitting calligraphy technique but also acting as a therapist with more than 80 students.
For people who have lost confidence in themselves due to the stress and pressure of society, Ai Takaoka teaches « being as you are is good » and « it is good to more fully express yourself » .
Her hobbies include running marathons and developing physical strength. Her belief in simultaneously training the body and the spirit is such that she has been called the « athlete calligrapher » .



 She started doing calligraphy at the age of six. As her mother was a calligrapher she was raised in receptive environment, yet her calligraphy teacher was her mother's teacher.
At the end of High School, she struggled to make the difficult choice between going to a music university to pursue her Koto (13-stringed Japanese zither) studies or continue her calligraphy studies. She went to a university in Kyoto and studied in the Humanities, but since there was no calligraphy course in the curriculum she knocked on the studio door of a famous Nitten-exhibited calligrapher and was thus able to continue learning calligraphy. After graduation, although she started a career as an office worker, she persisted in her training at home after work, often practising until four in the morning.
But the gap between her office career and her interest in calligraphy became more difficult to sustain and she started facing serious mental difficulties. During those times of extreme emotional insecurity, her desire to continue calligraphy became irrepressible and she resolved to devote herself to the « way of the brush », putting an end to her nine years as an office worker.
Yet the reality of her circumstances was very harsh. She wasn't even able to buy paper for her calligraphy and these difficult days without income continued one after another. But after that she was able to continue thanks to her family's encouragement and support from friends, while she kept in her heart the saying : « As long as you're alive, never give up ». Hence, slow but steady, she kept continuing her calligraphy activities. Eventually, she started being recognized as a true calligrapher and in a flash she began to be discussed on the television, on the radio, in magazines etc…
Now, she is continuing her activities as a calligraphy artist and performer expressing the wonder of calligraphy, encouraging the freeing of people's spirits and their independent way of life.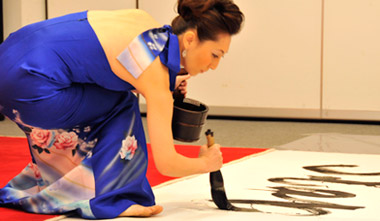 Principle exhibitions and performances
2015
Commissioned calligraphy on Japanese folding screen > Pier Antique Show – New York, USA
2015
Commissioned calligraphy, "Love" and "Peace" for the American Japanese Chinese ping pong diplomacy memorial plaque
> Aichi Prefectural Gymnasium – Nagoya, Japan
2013
Solo exhibition / Daimaru Department Store (Shinsaibashi) –Osaka, Japan.
2012
Solo exhibition / Mitsukoshi Department Store – Okinawa, Japan.
2012
Solo Exhibition and workshop /Atelier Gen Paul – Paris, France.
2011
Special interview /Fujin gaho magazine (April issue) on the theme « Ichi go ichi e » (« One time, one meeting » (tea ceremony's key principle))
2011
Special guest / « Seyanen » live broadcast program – MBS Mainichi TV channel
2010
Commissioned calligraphy for the poster for the sacred horse race at Kamigamo Jinja Shrine (World's heritage cultural property) – Kyoto, Japan.
2010
Collaboration / International Exhibition celebrating the 100th anniversary of Mother Teresa
2008
Collaboration with accordeonist Coba / Event for the LUX 2008 Shine Award – Tokyo, Japan.
2007
Special guest / « Vanilla Kibun » program – Fuji Terebi broadcast TV channel
2007
Collaboration with pianist Nicola Frisardi / Installation event celebrating the 100th anniversary of orchestra conductor Herbert von Karajan
Other awards and recognition
Won the Asahi Seimei Zenkoku Jidou Children Calligrapher contest (among tens of thousands of entries)
Won the Mayor's Award during the « Fresh calligrapher » exhibition organized by the Kyoto Shinbun Newspaper
During 5th grade (elementary school – age 10) she wrote the nameplate inscription for the main bridge in her hometown of Miyazu village (still is use today)
1995 : received her Kanji qualification from the Nihon Kyouiku Shodou Renmei (Japanese Educational Calligraphy Association)
1995 – 2006 : selected for the annual Yomiuri Calligraphy exhibition
Member of the Kyoto UNESCO association
Tourist ambassador for Tango village