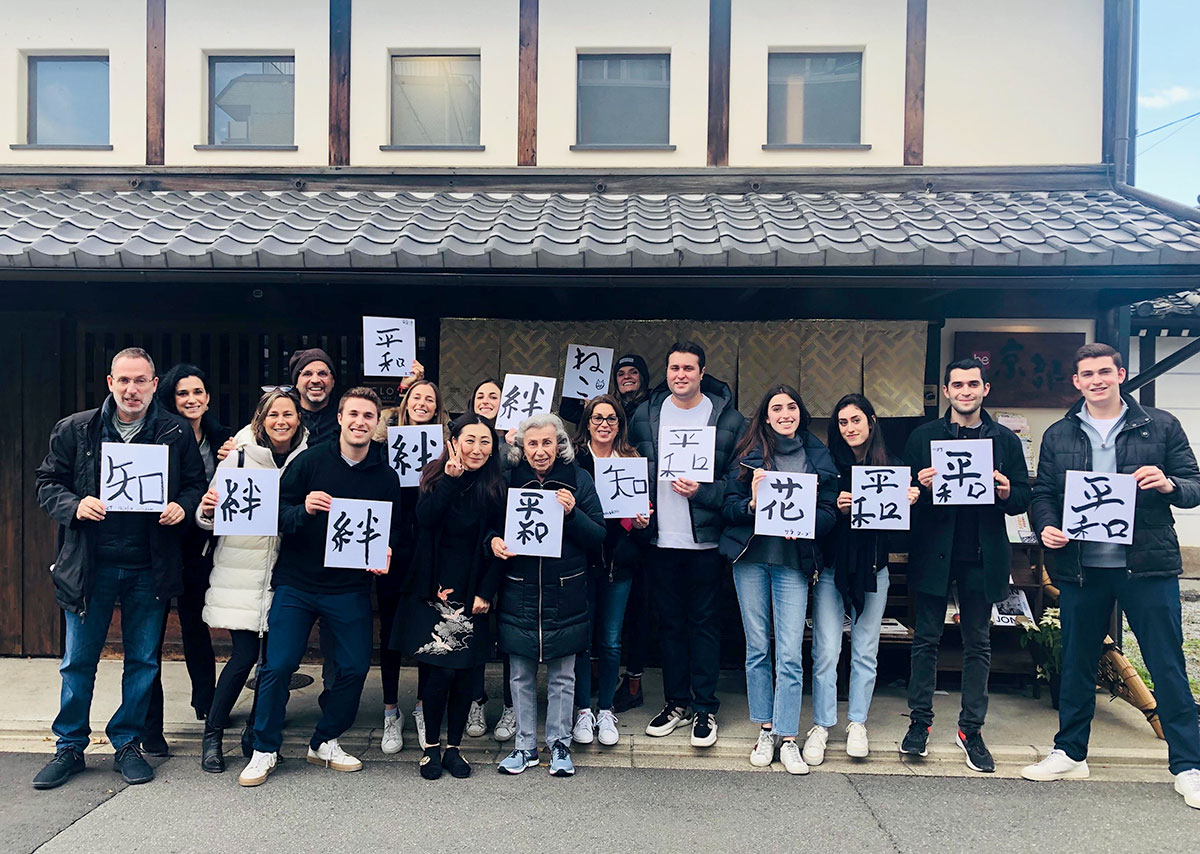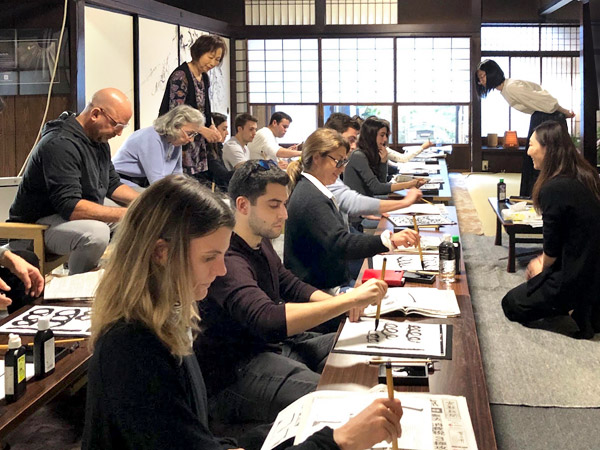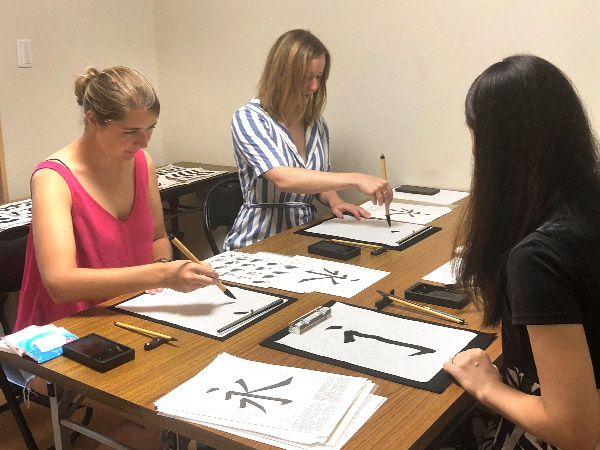 Come experience genuine Japanese culture in the heart of Kyoto by doing calligraphy! Writing kanji freely,skillfully. Come express yourself with calligraphy!
In our course you will learn how to rite kanji (stroke order,meaning) and try out different styles of writing.
As a nice souvenir : you can write your favorite kanji on a fancy square paper(shikishi) or on a fan(uchiwa)!
All materials (paper, ink, brush etc…) are provided at no extra charge
Don't worry about sitting on tatami mats as the studio has chairs and tables.
Please note: reservations can be made up to five days prior to the chosen date. You will receive a detailed map upon confirmation of your reservation.
Days
Please inquire about workshop dates.
Time periods
1.10:00〜11:30
2.13:00〜14:30
fee
90 minutes per person 11,000 yen (tax included)
Number of people
a minimum of 2 people is required(max.6)
Regarding the time and day of the week, there may be other options available, so please feel free to inquire.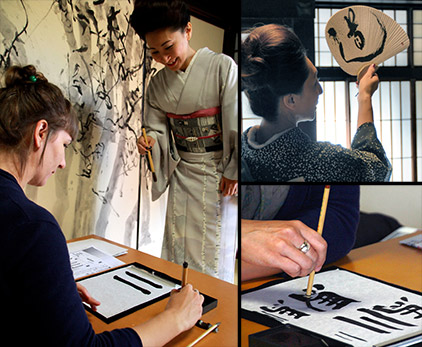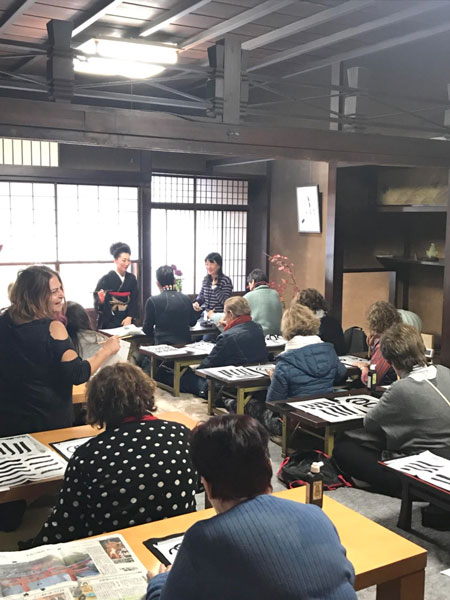 clients' comments
Mumbai, India.
As an artist I have always been fascinated by calligraphy as a unique form of art. I was fortunate enough to travel to Japan and get an opportunity to venture further into the world of calligraphy. This opportunity was presented to me by one of the most global promoters of calligraphy and herself an immensely talented calligrapher, Ai Takaoka. Having done shows all over the world from Paris to New York, Ai Takaoka Sensei was someone who still displayed a sense of passion and humility that I had never seen before. Her encouraging nature and passion for Calligraphy was infectious, motivating me and guiding me at every stage of the course. She taught me that calligraphy was much more than what meets the eye, and that it had a meditative and creative side to it as well. Ai Takaoka Sensei's sessions brought about a deeper connection between mind, soul and brush which resulted in a therapeutic and fascinating journey.
Working on this course has given me more insights into the world of calligraphy and an immense respect for Ai Takaoka as a Teacher and an artist.
Thank you
Domo arigato gosaimasu
Kshipra Patel
San Francisco the U.S.A
I enjoyed studying shodō when I was a graduate student in Japan.
Several years ago, I wanted to study shodō again when I stayed in Kyoto. I had the good fortune to meet Takaoka Sensei, and she agreed to teach me.
Last Fall I returned to Kyoto for an extended stay. This time I could take daily instruction from Takaoka Sensei. Little by little my writing improved during my stay.
What I like about shodō is the mental disciple. You must concentrate on each stroke's shape, the balance within the Kanji, and not think about anything else.
Writing balanced Kanji is hard, but very rewarding when you do it right.
Thank you, Takaoka Sensei.
Mark Borsuk
Singapore
Kyoto offers a multitude of culture bites for the casual visitor, but scratch the surface just a little and the foreigner wanting to study one of the arts in more depth can encounter a world of language barriers and restricted options.
That's where Ai Takaoka is different. Not only is she a skilled calligrapher and performance artist; she actively reaches out to a wider world, travelling extensively to promote her art and welcoming the chance to teach sho-do to those who come to Kyoto from overseas.
We studied with Ai sensei over a number of visits to Japan, and despite being somewhat slow learners from an older generation found her motivated and enthusiastic to impart her knowledge, challenging herself to communicate her thoughts and advice to us in English when many would have found the task too daunting.
Ai is also deeply interested in the philosophy behind sho, and we had several very rewarding conversations and exchanges of opinion, especially as she is so open-minded and keen to learn how people from outside her own culture perceive and approach the art of calligraphy.
We're very grateful for the opportunity she gave us and plan to continue our studies with her in the future.
Jon & Julinda