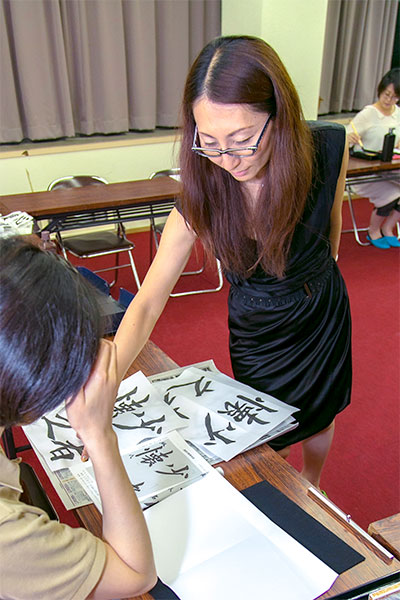 I just turn my heart to the paper. Calligraphy is a form of meditation.
single-mindedly Repeat the same thing.
Then your heart will be in order The idea becomes clear.
Cultivate a heart of gratitude by facing yourself
Ai Takaoka Calligraphy School
May you continue to evolve, elegant and beautiful, as if there is a flower in your heart.
Ai Takaoka's calligraphy class "Shinka" focuses not only on writing faithfully to the model and improving calligraphy skills, but also on "gratitude".
As we slowly and carefully write each character, we compose our spirits. Reset after the daily hustle and bustle. Through these activities, we nurture a mind that finds joy and happiness in everyday life, a spirit that is thoughtful, considerate, and grateful. Composing your spirit is the foundation for being yourself.
The state of your heart will appear in the letters you write that day. Anxiety, agitation, anger, fatigue, etc. There are times when students confide in me about their worries, and there are many who, by engaging with calligraphy, are able to compose themselves, become healed, and thus return to their daily lives.
Please feel your own spirit as you write carefully and faithfully to the model. I also think it's good to open your mind with free calligraphy. I would be happy if my students used time spent on calligraphy as a time to improve their daily lives.